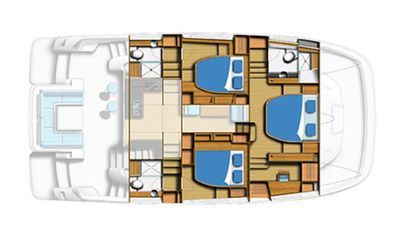 Aquila 44 Yacht Power Catamaran - Cay Sara
Born of innovation and experience, the luxurious Aquila 44 Yacht Power Catamaran is a world leader in its class. Designed to be both a long-distance cruising yacht and a highly social platform, the highly experienced Aquila design and engineering team created the Aquila 44 Yacht to optimize performance.
Two Volvo Penta diesel engines are situated aft behind the living compartments reducing noise and vibrations. Bulbous bows increase the waterline for greater efficiency while reducing pitching moments. Multifunction displays, digital controls, joystick operation, engine monitoring displays, thrusters, and widely spaced main engines make operating the Aquila 44 Yacht easily accomplished by a single couple.
With an enormous amount of attention to detail and knowledge of how owners use their boats, both the exterior and interior spaces are perfected to serve those utilizations. The stairway from the flybridge to the foredeck gives safe, easy access to the ground tackle locker and forward cleats when anchoring or docking. Wide side decks and safety handrails are another example of the Aquila's commitment to owners' and guests' comfort and safety on the 44 Yacht model.
Available with a 3-cabin layout featuring a salon and galley with 360° views and an extensive flybridge, the layout of the Aquila 44 Yacht makes entertaining a crowd aboard easy. Boarding from the port or starboard swim platforms, guests step up to the aft deck with an al fresco dinette. The window partition between the aft deck and the interior galley lifts, and the countertop folds out to create a service bar. The galley is strategically placed between the aft deck and the salon and dinette on the main deck, making it easy to serve guests inside and outside. A summer kitchen is centrally located to attend to guests in the aft-mounted dinette, and those on the flybridge can enjoy panoramic views along with the operator while underway.